SIROCCO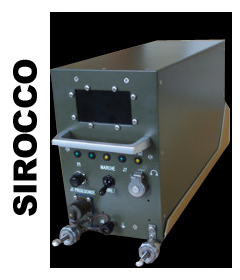 Processing of raw data
Reference GPS station for differential calculation
Data archiving on hard disk or another digital support
Real time data display listing and/or graphical Sonde programming interface
GPS repeater for indoor sonde initialization
Groundcheck system for T and U sensors
Real time data processing on a specific application such as :
Météo-France STAR computer
Editing of WMO(TEMP, PILOT, BUFR, STANAG...)
Data transmission through Ethernet network
WINSOWS 2000 OS workstation (Desktop or Laptop PC)
Rack normes GAM EG13
Auto tests with diagnostic display facilitating the maintenance
Omni directional antennas, easy handling and installation
Compatibility with former generation of GPSondes
Talent is God given. Be humble. Fame is man-given. Be grateful. Conceit is self-given. Be careful.